With 1 billion active users spread across 154 countries, TikTok has quickly become a prominent marketing channel for savvy businesses out there.
From TikTok Shop to TikTok Live, more and more features are designed for marketers and content creators to engage their audiences.
Now that businesses are jumping into the TikTok marketing bandwagon, the platform is so crowded. It's a fight for eyeballs. This is where utilizing TikTok marketing comes in handy for every marketer that aims to stand out from the crowd.
We've listed some of the best TikTok tools to use in your overall marketing campaign in 2023.
TikTok Tools for Editing
TikTok allows you to edit your videos with its in-built video editing tools. But if you want to go the extra mile, you can use one of the tools below. These tools can bring your content ideas to life.
#1. Adobe Rush
Adobe Rush comes with a quick, snappy clipper for creating social media-worthy videos. From adjusting the video's aspect ratio to applying color grading effects, this tool allows you to edit your TikTok videos and make them more interesting quickly.
This is a free app. If you want to unlock some premium, more advanced features and additional cloud storage, you might upgrade to a paid plan that costs you $10/month.
#2. Zoomerang
Zoomerang is a simple TikTok video editing app that's perfect for beginners. From adding text to videos to smooshing together shots, this tool can make your videos specifically designed for TikTok.
In this app, there are tons of video tutorials you can watch, making it much easier for you to watch popular TikTok videos and learn how to create those videos for yourself. Zoomerang has a free limited plan. In-app purchases start from $1.99 per feature/item.
#3. InShot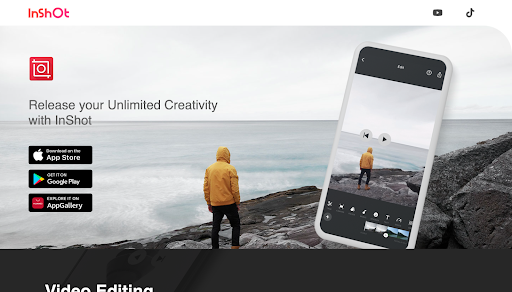 InShot is a robust editing tool, especially for resizing your videos. It includes filters, font styles, animation effects, and transitions. Once you've done editing, you can share the final result with TikTok directly from the app.
It also allows you to extract music from other videos and add it to your own video.
All the basic features are free to use. If you need more robust features and watermark-free videos, you can subscribe to its paid plans, which start from ​​$3.99/month.
#4. CapCut
CapCut comes from Bytedance, the company that made TikTok. This video editing tool is free to use, making it popular among TikTok users. The features it provides are pretty basic, from trimming, cutting, adding music, etc. It also has fun features like stickers and captioning that can make your videos TikTok-ready.
#5. Movavi Video Editor
Movavi Video Editor is a preferred video editing software choice for TikTok creators, offering a user-friendly interface, AI-powered tools, and Chroma key for dynamic visual effects. With a wide range of effects, filters, stickers, and text overlay options, it's perfect for crafting engaging and trend-responsive content. The speed control feature enables quick transitions, aligning videos with TikTok trends. After editing, creators can easily share their content directly to TikTok and other platforms.
You can try the 7-day trial or opt for the full version at $49.95 per year or $69.95 for a one-time license to remove the watermark.
TikTok Tools for Analytics
Analytics tools give you a solid insight into what your audiences really want. You'll know what content performs best and which ones don't. This way, you can gain insights on how to end up on the For You Page (FYP).
Here are some analytics tools for Your TikTok videos.
#6. Analisa.io
Analisa offers detailed analytics and reporting tools for Instagram and TikTok. You can analyze social activity and the performance of your own and your competitors.
Using this tool, it would also be much easier to track and monitor your audience demographics, gender, and locations, helping you to create laser-targeted videos.
To put the cherry on top, Analisa offers you campaign reports that you can download in CSV format or PDF format, customized to your needs.
#7. Popsters
Posters are well-known for TikTok competitors' analysis. It allows you to analyze and compare different TikTok profiles of different companies at once. The performance indicator features help you to check a post's performance through page activity and dynamics.
If you want to understand which type of post attracts more audience, it gives you a feature where you can compare different posts according to popularity, text length, engagement, and other criteria. The pricing starts from $9.99 per month.
#8. ForUsApps (TrendTok Analytics)
Many influencers use ForUsApps (formerly known as TrendTok Analytics) to track, identify and forecast TikTok trends based on location and category.
This tool not only ensures that you stay informed about what everyone is talking about in the platform but also gives it a forecast and prediction if a new trend is going to work out for you or not.
You can also curate a personalized list of trends to find and use in their next videos. The pricing plan starts from $19.99 per year.
TikTok Tools for Profile Growth
Whether you're a marketer or content creator, a solid fan or audience base is the backbone of your overall TikTok strategy.
These tools can help you appear as a pro, engage more customers, and take your TikTok videos to the next level.
#9. Social Viral
Social Viral is a TikTok auto liker tool. This tool helps you get real views, followers, and TikTok likes. When you first start, you need decent likes and followers to generate audiences' trust quickly. You can get 50 real followers for $1.49.
#10. Viewsexpert
Viewsexpert is well-known for growing exposure in social media channels, including TikTok. It offers you an easy way to increase views and engagement on the platform.
This tool helps you to get more likes, views, and followers legally and safely– without putting your account at any risk.
#11. SidesMedia
SidesMedia helps you gain more exposure for your brand and increase your build your audience.
With its proprietary growth engine, you'll get more followers, views, and likes at the most optimal rate to increase engagement and retention. The followers that you get from this tool are provided via real interactions only.
Wrapping Up
There are no one-size-fits-all TikTok tools. The best one is one that meets your needs and preferences. All those tools mentioned above can narrow down your choices, as they're easy to use and affordable.
Whether you are a seasoned pro or a complete newbie in the platform, those tools will spruce up your overall TikTok marketing strategy.
However, just like any other app in every industry, remember to always use TikTok marketing tools in accordance with TikTok's terms of service to avoid penalties or account suspension.
Author
Andre Oentoro is the founder of Breadnbeyond, an award-winning explainer video company. He helps businesses increase conversion rates, close more sales, and get positive ROI from explainer videos (in that order).
Twitter: @breadnbeyond