Instagram Reels has now become one of the hottest types of posts in the leading visual platform. Just like TikTok, this feature allows users to upload and watch bite-sized video clips (e.g., social videos, tutorial videos, even dance videos), whether it's for entertaining or educational purposes.
Since it makes the content much easier and quicker to consume, businesses use Instagram Reels to amp up their Instagram marketing game, boost engagement, strengthen brand awareness, book more appointments, and even increase the potential to go viral on the platform.
That being said, more and more users and businesses are jumping into the Reels bandwagon, as a new growth hacking tactic, making it harder for you to create one that stands out and grab viewer's attention in the feed. It means creating mediocre, bland, or lackluster videos will more than likely put you to waste.
Since the Reels itself still has some limited in-app editing tools, you need to leverage some tools "outside" the app to ensure that your Reels will be appealing and engaging for users. Not to mention that Reels often glitches when users edit their videos through the feature that can result in de-synced visuals and audio.
That's why using video editing tools for Instagram Reels comes in handy for many users. In this article, we'll be highlighting top tools that can help you create and and edit videos for better-looking Instagram Reels in a faster way and with less hassle. Any vertical video editor will do, but these are the best of the best.
1. InShot
You know Reels work best for vertical videos. But, when you want to upload horizontal videos, you can use InShot to take care of the editing process. It adds bars on top of below the horizontal video so it becomes vertical. You can change the video aspect ratio to 9:16 (the recommended ratio for Reels) with a few taps.
InShot also allows you to add transitions, titles, and custom text captions that can help you produce beautiful Reels. It also allows you to trim your footage, splice it up, speed up clips, add filters or background music, and more. InShot is a very easy-to-use tool like any of the ringtone makers.
Available on:
Pricing:
InShot Pro costs $3.99 per month or $17.99 per year. You can also pay $39.99 for lifetime access.
2. Clips
Clips allows you to add fun, eye-catching built-in captions to your Reels effortlessly. If you want to create 15-second Reels where your captions appear as you speak (just like subtitles), you're going to want to use this tool. Clips does a really good job at accurately transcribing what you are saying.
The captions are customizable and you can choose the color, font, size of your text. Clips is also great if you want to make a Reel with an intro message or outro message that shows up at the beginning or end of a video clip.
It's super easy to use and helps viewers to understand your content is all about even when they mute the sound. Not to mention that this tool also allows you to add emojis, animated characters, fun stickers, and more.
Available on:
Pricing:
Completely free!
3. Canva's Video Editor
Most professionals and content creators know about Canva's features for photo editing, making digital brochures and graphic creation, but did you know that the platform offers a video editor too? It works great for making super high quality Instagram Reels that will perform well in the algorithm.
Here are its top features:
Hundreds of templates that you can personalize for all your ideas
Millions of free images and illustrations to add to your videos
A social media scheduler so you can automatically post your videos
An option to have your videos exported, scheduled, and published anywhere
Works for TikTok Video, Video Slideshow, Video Collage, YouTube Video, Instagram Stories, and Instagram Reels
Team collaboration features
Available on:
Pricing:
Free for most features. Canva Pro offers unlimited access to premium templates and graphics, and costs $12.99 per month.
4. Adobe Rush
Adobe Rush is a well-known social video editor. This tool has almost every basic feature you need for creating simple and straightforward social videos, including Reels. It has built-in templates for Instagram Reels that you can choose from.
Its easy-to-use interface allows users to export videos in HD quality with just one click, so this app works well if you want the convenience of publishing your content on Instagram Reels right away without any hassle.
Available on:
Pricing:
You can access Adobe Rush as part of an Adobe Creative Express plan, which costs $9.99 per month and also gives you access to Photoshop Express, Adobe Spark Video, and other services.
5.Movavi Video Editor
Movavi Video Editor is a desktop-based video editing tool that offers a complete suite of features to create stunning Instagram Reels. Apart from the essentials, such as effects, transitions, filters, and, add subtitles to video. It also provides advanced features like AI-powered motion tracking and background removal.
It is one of the best video editing software to create and edit effective videos for your marketing.
It offers two editing modes—Quick and Manual. The Quick mode caters to beginners and can help you create professional-looking videos quickly. The Manual mode is great for experts who want complete editing control and access to advanced features.
Available on:
Pricing:
It costs $54.95 for a one-year subscription and $74.95 for a lifetime license. Please look out for seasonal discounts and offers.
6. KineMaster
If you are a perfectionist yourself and want your Reels to look flawless, professional-looking, and high-resolution, you might need to use KineMaster. The tool has everything you need for creating professional-looking content, including sound effects and record voice-overs (a feature Instagram Reels is still lacking).
You can use it to trim clips from a prerecorded event or create unique animations with its easy drag & drop interface. It also offers features like shape masks (to add shapes/logos), text overlays, transitions between scenes, and motion graphics.
Available on:
Pricing:
KineMaster Premium costs $11.99 per month or $119.99 per year.
7. FilmoraGo
Filmora is a quite popular video editing tool. The company then established a mobile version called FIlmoraGo that allows users to edit and create stunning videos at their fingertips. You can add animated text, stickers, text overlays, etc., to make your Reels more eye-catching.
The tool also provides you with a royalty-free music library, so you can use the right background music to set the Reels tone and evoke viewers' emotions with your content.
Available on:
Pricing:
Filmora Pro costs $6.99 per month or $34.99 per year.
8. Splice
Splice could be your go-to Reels tool if you're a fan of Hollywood-style effects or transitions. This easy-to-use professional editing tool provides you with a number of cinematic effects, including the ability to change or customize background videos. Other well-known features include dynamic transition styles, pan and zoom effect, trendy filters and effects.
Editing your Reels on Splice can enhance the quality of it. It makes your Reels video even more catchy and attractive -- just like being filmed and captured by a professional videographer.
Available on:
Pricing:
Splice costs $4.99 per week or $13.99 per month.
9. WeVideo
WeVideo is another video editing tool that enables you to create professional-looking video reels. It has the most intuitive interface out of all these tools, with a full-screen preview and timeline for editing your footage.
It supports 4K resolution and provides you with a green screen effect to help you make such videos more aesthetically pleasing. Plus, it has a library of royalty-free music, sound effects, and stock video clips to help you pump up the visual for your Reels.
WeVideo allows users with all different levels of expertise to create professional Reels videos for personal use or online sharing. The best part about WeVideo is its cloud service which makes it so you can access your work from anywhere and on any device.
Available on:
Pricing:
WeVideo's basic subscription costs $5.99 per month or $49.99 per year.
10. Capcut
CapCut offers an array of creative possibilities with its text and stickers options. Add text to your videos using different fonts and styles, and choose from unique templates to make your captions pop. You can also spice up your videos with trending effects and filters, updated weekly to keep your content fresh. And if you're a music lover, CapCut has millions of music clips and sound effects to add the perfect soundtrack to your creations.
When you're done editing your masterpiece, CapCut makes sharing a piece of cake. Customize your video export resolution, from HD to 4K 60fps, and easily share it with your friends across various social media platforms including TikTok, YouTube, Instagram Reels, WhatsApp, and Facebook.
Available on:
Pricing:
A basic subscription costs $7.99 per month. Or, pay $9.99 per month or $74.99 per year for a PRO subscription.
11. Videoleap
One of the standout features of Videoleap is its inspiration-filled social feed. Connect with other creators, explore their templates, and use those templates with your own media. It's the perfect way to stay on-trend and create eye-catching videos for platforms like TikTok and Instagram Reels. But if you prefer to start from scratch, that's fine too. Videoleap's advanced editor is equipped with all the tools you need to unleash your creativity, from sound effects to video effects and green screens.
The movie editing tools are top-notch, allowing you to create professional-grade videos. With keyframe animations, you have precise control over the movement of your elements. The green screen/chroma key compositing feature lets you seamlessly blend multiple videos together. Fit video clips to your desired format by placing them on a blank or colored canvas. And don't worry about making mistakes – Videoleap offers unlimited undo/redo options, giving you the freedom to experiment. The intuitive timeline with zoom functionality allows for frame-by-frame precision, making sure every detail is perfect.
Available on:
Pricing:
For unlimited access to all features, you'll pay $7.99 per month of $69.99 per year.
12. VivaCut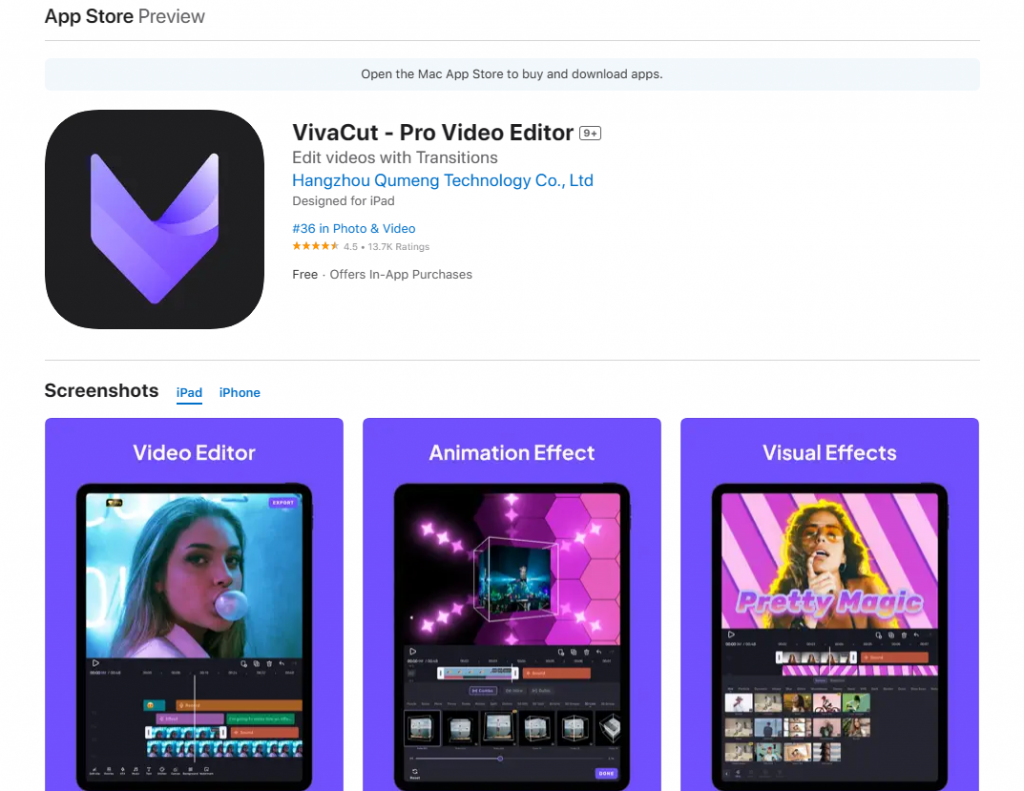 With VivaCut, you can trim, split, duplicate, flip, mirror, and transform your clips effortlessly. You have full control over color correction, allowing you to adjust brightness, contrast, saturation, and more. VivaCut even offers automatic aspect ratio adjustment to ensure your clips fit perfectly within the desired format.
When it comes to visual effects, VivaCut offers filters, dynamic transitions, and an extensive library of effects. Create mesmerizing visuals with advanced features like keyframe animations, green screen/chroma key compositing, and customizable film filters.
And with over 100 sound effects at your fingertips, you can enhance the audio experience of your videos. Dub audio, add voice-overs, and precisely control audio volume to give your videos the perfect sound balance.
Available on:
Pricing:
VivaCut Pro costs $9.99 per month or $59.99 per year. Like all of the apps on this list, you can try it before you buy it with a free trial.
13. Spark Camera
What sets Spark Camera apart from other video editors is its sole focus on the camera itself. You can shoot all your clips directly within the interface, eliminating the need for cumbersome external editing tools. As soon as you finish recording, Spark Camera seamlessly edits your clips together, saving you precious time and effort. Or, do it yourself. The app provides a beautifully designed and intuitive interface to trim, reorder, and delete clips from your video.
Adding a perfect musical backdrop to your videos is also a breeze. Select songs from your personal iTunes library or choose from the app's hand-picked music library, which offers a variety of license-free tracks.
To add a personal touch to your Instagram Reel creations, Spark Camera offers one-touch voice-over functionality. Easily narrate your videos, providing context and personality.
Available on:
Pricing:
Spark Pro costs $6.99 per month or $39.99 per year. Or, pay $79.99 for lifetime access.
14. Picsart
Available on:
Pricing:
Picsart Gold costs $57.00 for an annual plan or $12.99 for a monthly plan. You can also pay $4.99 per week for Picsart Gold if you only need to edit Instagram Reels for a limited time.
15. LumaFusion
One of the groundbreaking features of LumaFusion is the introduction of Multicam Studio. This innovative tool reimagines the way multicam editing is approached. With Multicam Studio, you can synch up to 6 media sources into a single track. As you focus on crafting your story, Multicam Studio takes care of the technical aspects, allowing you to concentrate on the essence of your narrative.
The magnetic timeline, insert/overwrite functionality, and the ability to link/unlink clips, as well as locking, hiding, and muting tracks, provide a professional editing experience. Choose from a wide selection of transitions to seamlessly blend scenes. Plus, you have ability to add markers and notes, as well as cut, copy, and paste clips within your timeline and between timelines to help you keep track of your stories and concepts.
Available on:
Pricing:
LumaFusion costs $9.99 per month for a monthly subscription and $69.99 for a yearly plan.
16. Zoomerang
Available on:
Pricing:
Pay $5.99 for weekly access or $29.99 for a yearly plan.
How to choose the right Reels app
How do you choose the right Reels app? Consider these important factors.
Affordability - If you're looking for a free option, try Clips or Canva. Or, for the lowest-cost paid app, choose InShot.
Ease of use - If you're not a professional video editor and you want easy and simple features, choose a simple app like Spark Camera or VivaCut.
Filters - If unique filters matter the most to you, you'll enjoy Picsart and Zoomerang.
Mobile and/or desktop versions - If you're looking for a Reels app that offers both mobile and desktop editing capability, then you should choose Canva.
Audio options - To get the maximum amount of audio files and add-ons, opt for CapCut or FilmoraGo.
Brand kit - If you want to maintain brand consistency between all of your vertical videos, choose a Reels editing app that stores your brand kit for easy use. Canva or Adobe Rush will be your best bets.
AI capability - To instantly edit your Instagram Reels using automated filters, trimming, and enhancing, choose apps with AI features. Picsart, Zoomerang, and Adobe Rush are all great options.
Final Thoughts: Craft Your Reels Now
Now that Instagram users are spending more and more time scrolling through Reels to see quick videos, leveraging the feature for marketing campaigns has never been more important.You must consistently create high-quality content if you want to become an influencer on Instagram and engage your target audience.
However, editing straightly in Reels is not always such a smooth process as the native Reels editor itself is still lacking and fairly limited. So, it falls on you as the marketer to create a video that will stand out from other clips.
You need to go beyond the app to craft eye-pleasing and stand-out clips to catch more eyeballs. With those seven best Instagram Reels tools mentioned above, you now have some choices not to improve your Reels visuals but also higher your chances to level up your editing skills. Keep in mind that a number of people use computers to look at Instagram Reels so make sure these videos appear well on monitors as well.
About the author
Andre Oentoro is the founder of Breadnbeyond, an award-winning explainer video company. He helps businesses increase conversion rates, close more sales, and get positive ROI from explainer videos (in that order).