Social proof like customer reviews, ratings, and testimonials helps build trust with your website visitors.
But what type of social proof should you add to your website...and how do you actually do it?
In this guide, we showcase the best formats for social proof, offering an example for each one.
Then, we dive into a list of free and affordable tools that make it super easy to include social proof on your website.
Curator.io is an easy-to-customize aggregator that lets you pull from over a dozen sources. If you'd like to give Curator.io's free forever plan a spin
sign up today.
Why you should add social proof to your website
There are a ton of reasons for adding social proof to your website.
Here are the key benefits:
Build trust: Social proof helps build trust with your website visitors. When potential customers see that others have had positive experiences with your products or services, they are more likely to trust your brand.
Credibility: Social proof demonstrates that your business is established and reputable, which can reassure customers that they are making a wise choice by engaging with your products or services.
Reduce risk: Social proof reduces the perceived risk associated with a purchase. Buyers are often concerned about making a wrong decision or wasting their money, but social proof can alleviate that.
Differentiation: In a competitive market, social proof can set your business apart from the competition. If your website showcases a large number of positive reviews or endorsements, it can help you stand out.
Validate claims: If your website makes specific claims about your products or services, social proof can validate them. For example, if you claim that your product is the best in its category, positive reviews from satisfied customers can support this.
Improve conversion rates: Social proof can boost your website's conversion rates, leading to more sales, sign-ups, or other desired actions. When visitors see that others have taken the desired action, they are more likely to follow suit.
Word-of-mouth marketing: Showcasing positive social proof can inspire more word-of-mouth marketing. When they see that other customers are recommending your brand, satisfied customers might be more likely to share their experiences with others.
SEO: User-generated content like reviews and rating, can have SEO benefits by providing fresh and relevant content for search engines. Reviews include lots of details, secondary keywords, and semantic keywords that people search for.
12 best ways to add social proof to your website (with examples)
How can you add social proof to your website? There are so many ways to add real social proof, you're sure to have one or more of these options available to you.
1. Embed your social media feed and include user-generated content
Showcase customers using your products, attending your events, or dining in your restaurant. Just embed your Instagram or other social media feed and approve posts to be sent to your website that show your products or services in a great light.
Example: Dover Saddlery
Tack brand Dover Saddlery uses Curator to add their social media feed to their website. They've got plenty of user-generated content featuring their products for riders and horses.
2. Add testimonials in line or with a carousel
Include testimonials from your clients or customers. Add a few in a row or organize them into a carousel that makes it easy for website visitors to navigate through the different quotes.
Example: Marie Forleo
Business coach and influencer Marie Forleo includes testimonials from students of her signature course, B-School, on her website. Site visitors can click the arrows to read more testimonials in the carousel.
3. Embed customer reviews from a trusted platform
Instead of adding standard text testimonials, you can embed reviews directly from a well-known platform like Trustpilot, Google, Facebook, Yelp, Airbnb, or other relevant review website.
Example: Rosedale Chevrolet
Rosedale Chevrolet embeds reviews from DealerRater in their website to include real reviews from a trusted, third-party source.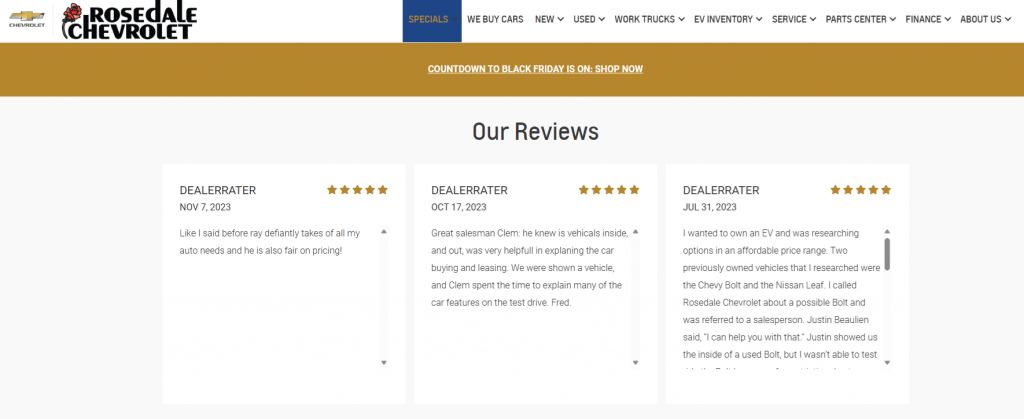 4. Create a portfolio page
Show off your best work, recent client projects, or artistry with portfolio images. In many industries, a picture is worth a thousand words. For graphic designers, interior designers, and other creative professionals, their portfolio is their best form of social proof.
Example: The Stone House
The Stone House is a historic venue for weddings, parties, and other private events. Immediately on the home page of their website, they include portfolio images from previous events. This shows potential customers the ambiance and style, helping them see what it would be like to choose the venue.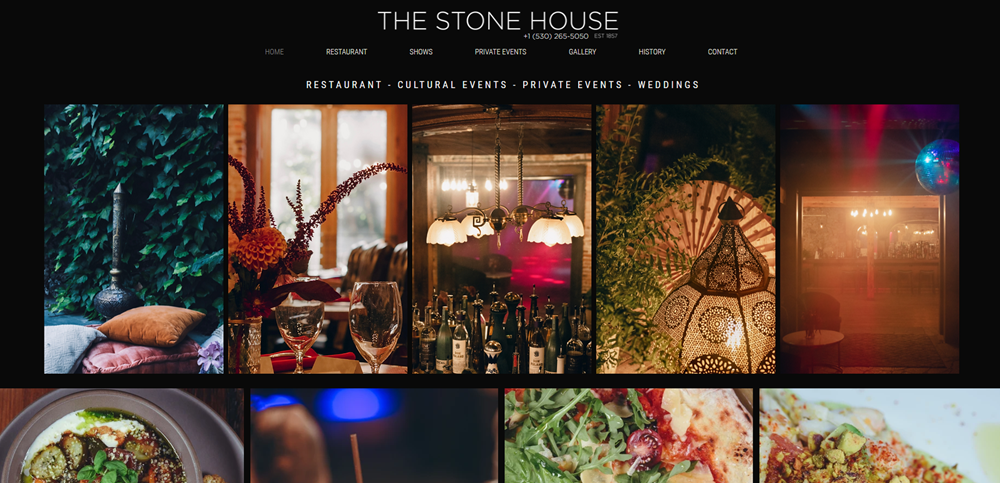 5. Add case studies to your website
In many industries, a testimonial or review is just not long enough to tell the full story of the customer transformation. Case studies usually include a problem statement, solution, and results to provide more details.
Example: Wepa
Wepa is a cloud-based printing solution for university campuses. In the resources section of their website, they have several case studies that showcase real photos of the printers and students who use them. Website visitors can click on a particular case study to view the full PDF story.
6. Include client logos
Client logos are one of the simplest and easiest forms of social proof in the B2B world. Because these act like a seal of approval, just make sure to get permission from your clients before adding them to your website.
Example: DevSquad
Software development agency DevSquad has a section on the homepage of their website with client logos. We like how a testimonial is included next to the logos for some extra social proof and a real human touch.
7. Add certifications and associations
Social proof isn't just the opinions of your customers. It's also about the organizations you're a part of.
In heavily regulated industries, it's important to show potential customers that you have the right credentials or are part of key associations. Medical offices, construction companies, architects, lawyers, and accountants should all consider adding this sort of social proof.
Example: Grass Valley Smiles
The Grass Valley Smiles dental office has a section on their website that showcases their memberships with the American Dental Association, California Dental Association, and the Sacramento District Dental Society. This puts patients at ease that the dental office adheres to standards and best practices.
8. Showcase before-and-after images
For products and services designed to transform people and places, before-and-after photos are the best form of social proof available. Businesses that sell weight loss, acne, hair, and beauty products should consider utilizing this sort of social proof, as well as interior designers and personal stylists.
Example: Vegamour
Vegamour is a hair growth serum. On each product page, the company adds a carousel of before-and-after images from customers to show potential buyers the positive results.
9. Add influencer endorsements and content
Many brands partner with influencers to grow their organic reach and inspire trust with their target audience. You should add your influencer endorsements and content to your website to improve conversions and reduce the sense of risk customers feel when buying a product.
Example: Tamagotchi Uni
As part of their Holiday 2023 marketing campaign for the Tamagotchi Uni, the first ever Tamagotchi with Wi-Fi, the company partnered with Charli D'Amelio, arguably the most popular TikTok influencer in the world. The website prominently showcases Charli in multiple images and videos to add a trusted face to their exciting new product.
10. Notify website visitors of real purchases and sign-ups
Have you ever seen those little notifications on the bottom of the screen that show when someone has made a purchase or signed up for a freebie? These notifications are a great form of social proof for both products, services, and content marketing campaigns.
Example: Mastering Instagram
Mastering Instagram is a program that helps content creators grow their Instagram following. At the bottom-left hand corner, the website includes real-time notifications of proof-of-sign-up with the app Proof.
11. Highlight your press coverage and podcast interviews
Traditional and digital PR like magazine interviews and podcast interviews are excellent forms of social proof. They show that you've gotten the attention of important media outlets, which adds a lot of credibility to your business.
Example: Selena Soo
Selena Soo is a publicity coach with an impressive media page. She includes a list of selected media coverage and articles, showing potential clients that she knows what she's doing and can help them get great press coverage too.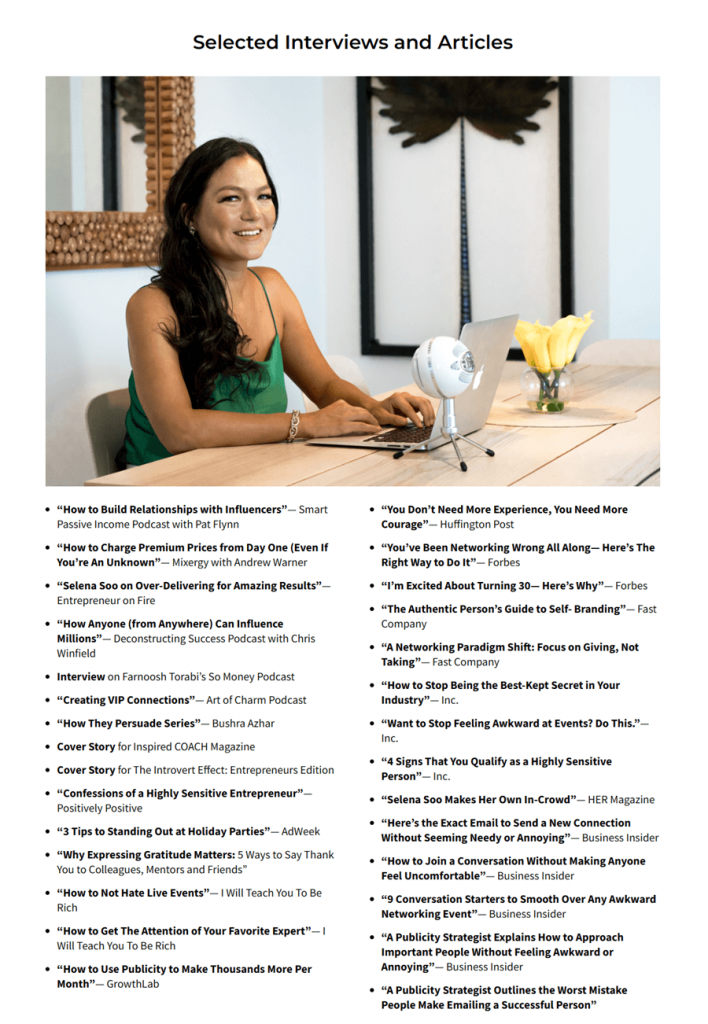 12. Add awards
Try adding any awards, badges, or competitions that you've won to your website to inspire trust and reduce the feeling of risk customers feel when making a purchasing decision.
Example: Authentic Web Solutions
Web development and marketing agency Authentic Web Solutions includes awards and acknowledgments on their website to show potential clients that their work is high quality and well recognized.
8 best tools for adding social proof to your website
Ready to add social proof to your website?
It's easy with these free and affordable tools. Check out our top picks.
1. Curator
Tool type: Social media feed, user-generated content, and influencer content
✅Free plan: Yes
With Curator, you can embed your social media feed directly in your website. Set it to automated approval to add all posts to your site, or manual approval to pick and choose the best content. Curator is great for moderating and showcasing user-generated content as well as influencer-created content.
2. Elfsight
Tool type: Testimonial widget
✅Free plan: Yes
With Elfsight, you can easily create and add a testimonial widget or carousel to your website. Include customer images as desired.
3. ReviewsOnMyWebsite
Tool type: Review widget
❌Free plan: No. Pricing starts at $7 per month.
ReviewsOnMyWebsite is a great solution for embedding customer reviews from trusted, third-party platforms. It integrates directly with Google, Facebook, Yelp, Zillow, and other popular review sites. ReviewsOnMyWebsite also includes features to request and manage reviews, so you can grow your number of online views specifically from satisfied customers.
4. Portfoliobox
Tool type: Portfolio creator
❌Free plan: No. Pricing starts at $3.50 per month.
Portfoliobox is an easy-to-use portfolio builder. You can create attractive, well-formatted galleries that put the spotlight on your creative projects.
5. Wix
Tool type: Website builder
✅Free plan: Yes
Wix is a popular website builder that makes it easy to create a website without any design or coding experience. There are lots of built-in widgets available so you can add testimonials, client logos, and other forms of social proof to your website without the use of additional plugins.
6. Proof
Tool type: Live purchase notifications
❌Free plan: No. Pricing starts at $66 per month.
Proof is a platform for adding live notifications to your website. These notifications will show recent purchases and sign-ups from real customers. This increases trust in your website and adds an element of FOMO to increase conversions.
7. Venngage
Tool type: Case study creator
✅Free plan: Yes
Venngage is a graphic design program that's great for B2B companies. It comes fully loaded with tons of templates for creating infographics, reports, and case studies. Use it to generate beautifully designed case studies for your website.
8. Issuu
Tool type: Embed PDF case studies or magazine features
✅Free plan: Yes
With Issuu, you can embed any PDF into your website, so site visitors can flip through the content. This is great for adding PDF case studies to your site, as well as magazine and newspaper features.
There are so many ways to add social proof to your site. Pick your favorite tool and cross this task off your list in no time.
Add social proof to your website with Curator.
For more ways to improve your site, check out our list of 27 different types of website widgets.
Curator.io is an easy-to-customize aggregator that lets you pull from over a dozen sources. If you'd like to give Curator.io's free forever plan a spin
sign up today.